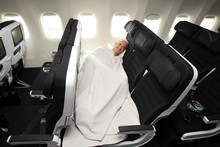 The Air New Zealand marketing machine is almost as big and brash as the airline's new Boeing 777-300 jet.

But the campaign to promote new food, drink and innovative seats on its international flights has been marred by previously undisclosed delays.

Passengers have been forced to wait for their meals, as cabin crew struggle to dish up in the narrower economy class aisles. Now, the airline has decided to scrap one course - the pre-meal snack and bar service.

Air NZ crew have had issues heating meals in the new ovens in the 777-300, and have asked the manufacturer to replace casserole dishes that didn't meet specifications.

Despite massive international publicity, the so-called "cuddle class" lie-down seats have not yet been approved by the Civil Aviation Authority.

One staff member, who would not be named, said the in-flight service was "a dog's breakfast" and cabin crew were very unhappy.

The 777-300 has carried more than 10,000 economy class passengers since it began flying last month. But the airline is dismissing the concerns as teething problems, and says Civil Aviation sign-off was expected to be a lengthy process.


The Skycouch - "cuddle class" - was officially unveiled more than a year ago, and has been heavily marketed.

It allows couples or families to lie across their seats, which are extended into a sleeping platform.

Air NZ corporate communications manager Tracy Mills said the Skycouch was in the final stages of authority approval and due to be completed before entering service in April.

Of the airline's Boeing 777-300ER's 224 economy seats, 60 will be configured to transform into 20 Skycouches.

A cuddle class round trip for two to London has been projected to cost around $6285 - about $400 dearer than two economy class seats.

The Civil Aviation Authority said the seats were still going through certification process: "To put equipment on board an aeroplane, it has to be checked out properly and certified and that's what's happening now."

Meanwhile, the planes have already been tried out on international routes, including the short hop to Australia and longer-haul flights.

The airline immediately encountered delays in its in-flight meal service, with each trolley now pushed by one cabin crew member, rather than the two used on other planes.

Part of the problem is understood to be with the ovens and with a "production issue" with the casserole dishes.

In its latest newsletter, the airline said its Kupe service (on its new Boeing 777-300s) was being simplified "based on feedback that customers love the aircraft and the food, but the service is taking too long".

This means some services have been cut - in economy, the welcome snack and pre-meal bar have been removed.

Mills dismissed claims the meal service had taken hours on international flights. "However, food delivery has taken up to 1 hours longer than desired while our staff familiarised themselves with the new food and beverage service," she said.

"Everyone has been very understanding and the new food and beverage service is now going well."

She said according to customer feedback, a pre-meal snack wasn't required. She supplied four passenger comments applauding the economy class service and the "extra-friendly staff" but none criticising them.